This article is a Work in Progress.
Dark Vega Ward



Name:

Immortal Kishimote

Aliases:

Owl
1050
Dark Vega Ward
Demon Boy
Lab Rat
Test Subject

Age:

15

Gender:

Male

Alignment:

Good

Race:

Half-Human
Half-Demon

Goal:

To stop and destory his counterpart Mortal Mystogun
History
As a half Demon
Personality
Immortal is silent and mysterious.When he is in his Half-Demon form he strives, to protect those he loves,and cares about
Appearance
Powers
Blood Manipulation
Immortal has the ability to control his blood freely, at will Attacks: Blood Bombs:
Immortal can shape his blood into a spherical shape that can detonate automatically 15 min.after they are released.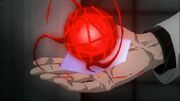 Blood Armor: Immortal can harden his blood into an armor like shield. Blood Sword:
Weakness
Quotes
Ad blocker interference detected!
Wikia is a free-to-use site that makes money from advertising. We have a modified experience for viewers using ad blockers

Wikia is not accessible if you've made further modifications. Remove the custom ad blocker rule(s) and the page will load as expected.