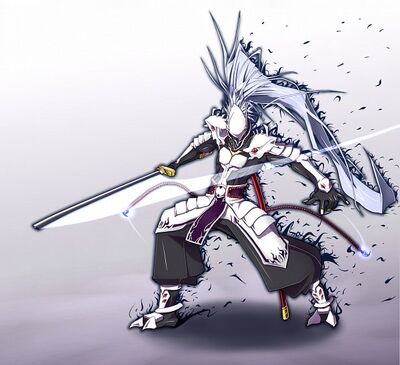 He is D's brother and is one of the most powerful beings in Mu.
Personality
Nice and cocky and perverted he is so powerful he can't even be in the Dream Tournaments anymore. Ejji the other soul is his opposite. N.O.S is his close friend and side-kick.
Powers
"
Your damn right I'm not an army I'm the ultimate Weapon!!
"

–To those he hates
Neuro-Electricity Manipulation-
Dimensional Entity Physiology-
Automatically Enhanced Ability Acquisition-
Ejji's powers
Weakness
Girls [although obvious this is a weakness]
Trivia
His name means 'Boundary' in Japanese
Equipment
Kurokami -
Kinryu -
Golden Moon -
Forms
Bo'Jorogumo
Ad blocker interference detected!
Wikia is a free-to-use site that makes money from advertising. We have a modified experience for viewers using ad blockers

Wikia is not accessible if you've made further modifications. Remove the custom ad blocker rule(s) and the page will load as expected.