This article, Sedna, is property of Truth™.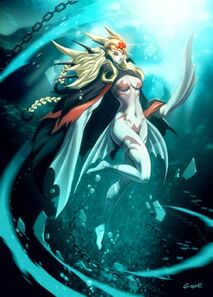 She nice and timid
Personality
Nice and timid and quite.
Powers
Ocean Manipulation-She can make the ocean an deadly place not even Susano'O could defeat her she can even destroy land to make room for more water.
Mind Exchange-She can switch her mind with other females well the pretty ones she still has the powers but not the memorys of the females she exchanges minds with.
Mind Link-She can link with sea creatures an control them even mix them together to make an beast with an powerful DNA.
Love Inducement-She makes go head over hills about sea creatures even make you drown in water because you love them sooooo much not even Avery Vulcan break free easily.She even can make any race explode into water because of their love.
Weakness
She has no weakness
Ad blocker interference detected!
Wikia is a free-to-use site that makes money from advertising. We have a modified experience for viewers using ad blockers

Wikia is not accessible if you've made further modifications. Remove the custom ad blocker rule(s) and the page will load as expected.