This article is a Work in Progress.
Omiverse Master



Name:

Senji Fearsome

Aliases:

Master
Dark lord
evil Tyrant

Age:

20

Gender:

Male

Alignment:

Bad

Race:

Demon

Goal:

To take over the world and destroy the human race
Appearance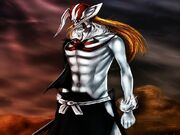 Personality
History
Plot
King Of The Hill Arc
Omiverse Arc
Powers
Powers: Mind Control Shadow Manipulation: Senji can contact and control the Shadow King and the entire Shadow kingdom.Along with the Shadowverse Transformation:Formes As Senji's lastnames goes he can transform into Fearsome beast his last and final form is his strongest,fastest and really powerful. It is much stronger than his 2nd form
Weakness
Salt is Senji's weakness
Quotes
Senji to baby Immortal "Soon Immortal-kun soon we will take over that puny planet called Earth SOON
Senji to himself I will take over this universe!!!!!!"
Ad blocker interference detected!
Wikia is a free-to-use site that makes money from advertising. We have a modified experience for viewers using ad blockers

Wikia is not accessible if you've made further modifications. Remove the custom ad blocker rule(s) and the page will load as expected.